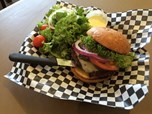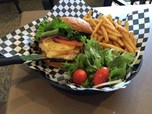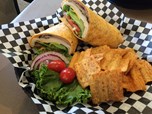 Enjoy fresh menu items while relaxing indoors or out in the Foothills Grill. Comfortable seating and a fantastic view of the Foothills combine for a memorable dining experience.
The Foothills Grill is open daily from April through September from 8:00 am until 8:00 pm.  During the winter months (October through March), the Foothills Grill is open limited hours and may have a limited menu; please call (208) 972-8590 for details.
For luncheons at our banquet room, please contact the event coordinator for additional menu options.
BREAKFAST (served from 8:00 – 10:30 am) 
BREAKFAST SANDWICH
Egg, Cheddar Cheese, with your choice of protein (ham, bacon or sausage) on Bagel or English Muffin
BREAKFAST BURRITO
Tortilla stuffed with two scrambled eggs, your choice of protein (ham, bacon or Sausage), Cheese and Hash Browns with side of salsa 
FROM THE GRILL (served from 11:00 am – 8:00 pm) 
(All served with French Fries or Tator Tots)
FOOTHILLS ANGUS BURGER
⅓ lb - Double R Ranch Beef Patty served with lettuce, tomato, red onions, pickles and choice of cheese (Cheddar, Swiss, Pepper Jack or American) on a fresh Ciabatta Bun 
GRILLED CHICKEN
Grilled Chicken served with lettuce, tomato, red onions, pickles and cheese (Cheddar, Swiss, Pepper Jack or American) on a fresh Ciabatta Bun 
BASKETS
CHICKEN STRIPS
Grilled chicken strips served with choice of dipping sauce and french fries
FINGER STEAKS
Seasoned, grilled steak nuggets served with BBQ or Ranch dipping sauce and french fries
WRAPS/SANDWICHES (served with chips) 
SPECIALTY WRAPS 
Daily specials  
CHICKEN CAESAR 
Breast of Chicken, Parmesan Cheese, Romaine Lettuce, Caesar Dressing in a fresh tortilla or bun
TURKEY BACON WRAP 
Roasted Turkey, Smoked Bacon, Romaine Lettuce, Ranch Dressing in a fresh tortilla or bun
BUFFALO CHICKEN
Chicken breast basted with buffalo sauce with lettuce, ranch dressing and grated cheese in a fresh tortilla served or bun
SIDES 
BASKET OF NATURAL, SEA SALT FRIES
BASKET OF TATER TOTS 
PRETZEL BITES
A LA CARTE MENU
HOT DOG 
HOT POLISH SAUSAGE 
BEVERAGES 
Quench your thirst with our assortment of beverages 
TAP BREWS
Domestic and Premium Craft Brews 
Growlers: 
Refill your 64-oz growler with our tap beer. MARKET PRICE 
BOTTLED BREWS
Domestic: Coors, Coors Light, Bud, Bud Light, Miller Light, MGD, Pabst, Michelob Ultra, O'Douls (Non-Alcoholic)
Premium: Angry Orchard, Blue Moon, Bud Light Clamato, Bud Light Lime, Corona, Crooked Fence, Fat Tire, Heineken, Mike's Harder Lemonade, Payette North Fork, Outlaw, Tecate 
WINES (5 oz glass) 
House Red or White 
NON-ALCOHOLIC BEVERAGES
Coffee 
Cappuccino 
Fountain Drinks (Coca-Cola Products)
Regular / Large