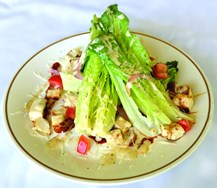 The Foothills Grill is open to the public, offering service to walk-in customers as well as golfers.  The Foothills Grill provides catering for our banquet facility which is a great place to host an event. 
Our banquet facility is a versatile space that overlooks the golf course and has wonderful views of the foothills.  The space can accommodate almost any function from small wedding receptions, celebrations of life, retirement parties, to fundraising events and corporate dinners.  Please contact Matt Ennis for more information at (208) 972-8590. 
Enjoy fresh menu items while relaxing indoors or out; comfortable seating and a fantastic view of the Foothills combine for a memorable dining experience. 
THE FOOTHILLS GRILL HOURS ARE SEASONAL: 
APRIL THROUGH SEPTEMBER, THE FOOTHILLS GRILL IS OPEN FROM 8:00 AM UNTIL 8:00 PM
OCTOBER THROUGH MARCH PLEASE CALL US AT (208) 972-8590 FOR HOURS